Newbury College has opened its doors to over 1,200 students for the second annual Destination Expo careers fair in partnership with the Education Business Partnership (EBP). This event was a clear example of the College's ongoing commitment to helping students find 'careers, not courses', a mission they've been dedicated to for 75 years.
EBP brought together 65 different businesses and organisations to participate in the expo held at the Monks Lane campus as part of their yearly activities aimed at connecting local businesses and schools to create the biggest careers expo in West Berkshire.
Some of Newbury College's largest apprenticeship partners, such as AWE, Equinix, Science and Technology Facilities Council, and Xtrac were keen to engage visitors with interactive activities that helped the young people explore opportunities in innovative ways.
The event also featured various universities and education providers, such as University Centre Newbury, who shared information about a wide range of higher education opportunities, from higher apprenticeships to degrees.
Newbury College, established shortly after the Second World War, has been a significant player in the region's education sector. The expo was more than just a one-day event; it was a reflection of the college's long-term commitment of supporting people in their career development.
During the event, both Kate Barrow, the Chief Executive of EBP, and Iain Wolloff, the Principal of Newbury College, spoke about the importance of this collaboration, as they were joined by local leaders like Newbury MP Laura Farris, and Mayors Nigel Foot and Mark Lillycrop, showing strong community support for the educational initiative.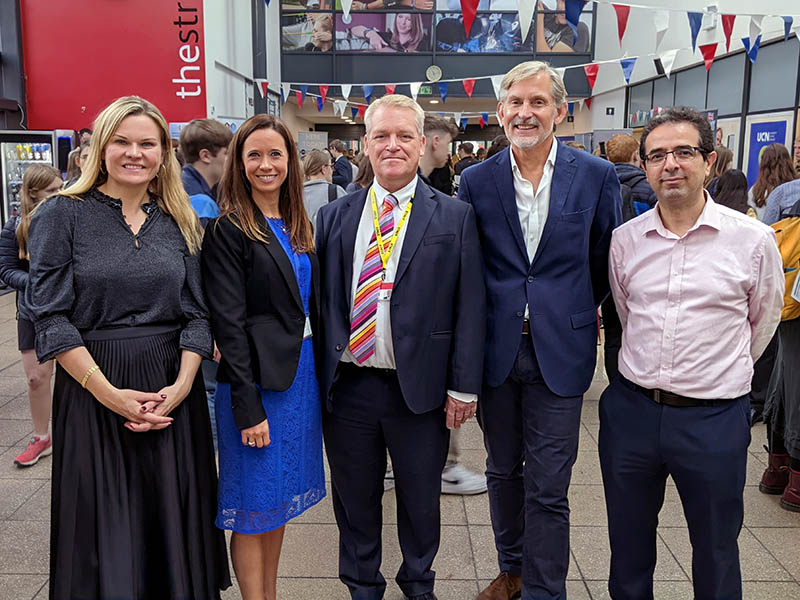 Education Business Partnership chief executive Kate Barrow said: "The Education Business Partnership was founded in 1993 in West Berkshire to promote effective education and business collaboration and, 30 years later, we have developed and expanded, adapted our ways of working to meet the changing business and education landscape, but have remained consistent in our mission.
"We support over 21,000 young people annually throughout the whole of the Thames Valley – whether that is with work experience or in school career development sessions or sector awareness raising workshops."
The day marked a dual celebration as the charity celebrated their 30th anniversary alongside the launch of Newbury College's '75 years of careers' campaign to recognise the careers achieved by its many thousands of alumni.
Local businesses and community members joined the staff of both organisations to commemorate these milestones at a special post-expo event for a cream tea and celebratory glass of prosecco.
Since 1948, when Newbury College first began its journey, it has continuously adapted to meet the changing needs of education and career guidance. The partnership with EBP has significantly helped in expanding the College's efforts to prepare students for a successful future.
To find out more about Newbury College's '75 Years of careers', read about the experiences of former alumni or to share your story, visit newbury-college.ac.uk/alumni