If you are thinking about studying at Newbury College, but are unsure about how the different levels of qualification compare, the following guide provides a rough comparison of some of the main qualifications offered by us and other providers.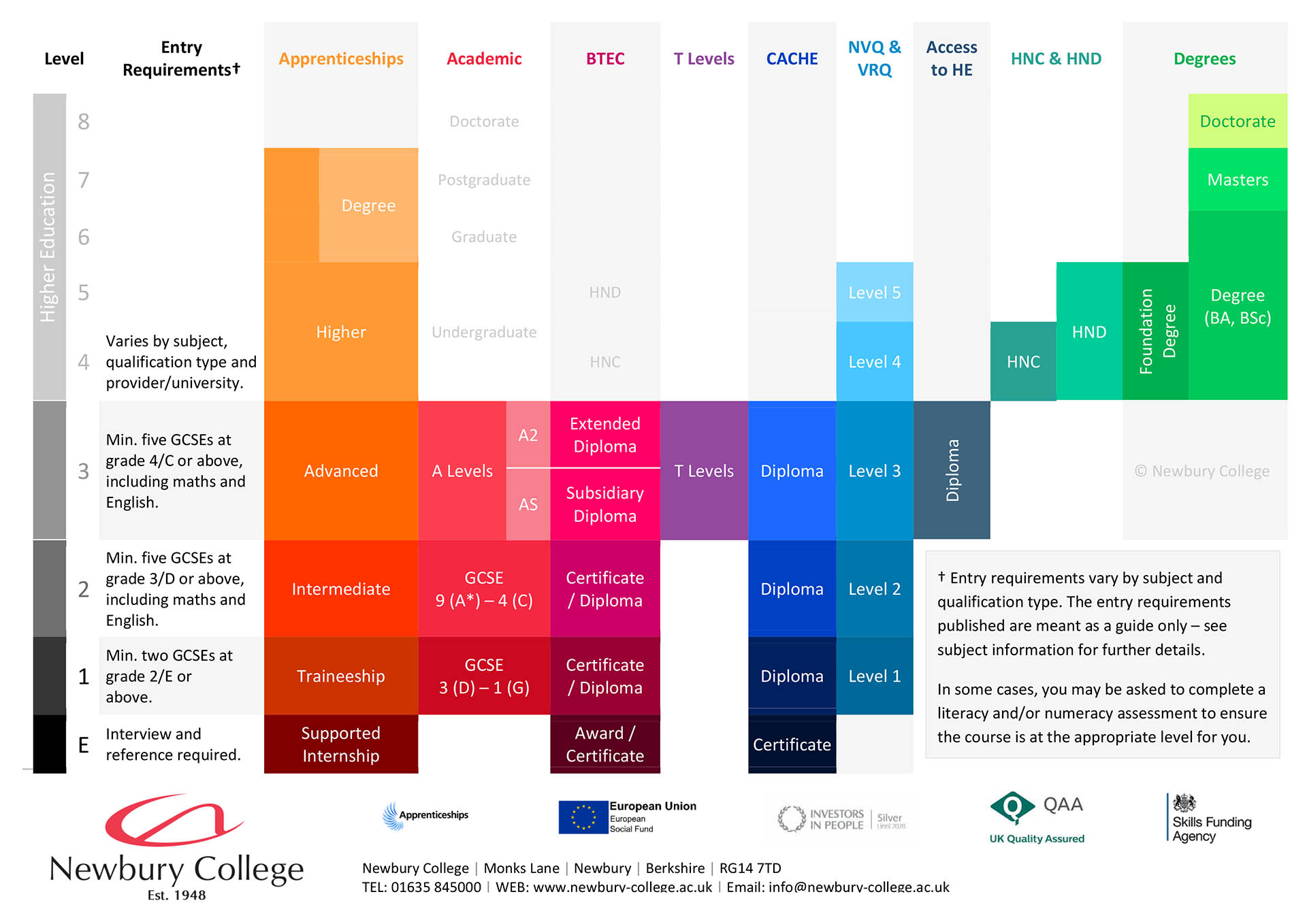 Download a copy of our Qualifications Guide
Full-time study programmes
Full-time study programmes are assessed in a variety of ways, rather than just through the traditional essay and exam methods, this can be beneficial to students who prefer to be assessed differently and demonstrate their skills in other ways.
College Progression vs Sixth Form
College progression follows a similar path to that of going to sixth form, however, because we focus on vocational qualifications, you may be able to access your chosen career faster and at a lower cost.
Level 3 programmes such as BTEC Extended Diplomas and T Levels are equivalent to A Levels. These qualifications offer a focussed route to higher education or meaningful employment and also carry UCAS points.
Higher National Certificates/Diplomas
Higher National Certificates (HNC) and Diplomas (HND) are a type of higher-level vocational qualification. They are typically offered as an applied qualification, such as in graphic design, engineering, and other vocational subjects, rather than more traditional academic subjects.
The HNC is equivalent to the first year of traditional university study, and the HND is equivalent to the first two years. They can be studied full-time, part-time or as part of an apprenticeship (depending on the subject) and involve a combination of coursework, practical assessments, and examinations.
Upon completion, students may choose to "top up" to a degree or enter the job market. Higher National qualifications are highly valued by employers and can provide an excellent route for those seeking to progress their career.