As another academic year draws to a close, Newbury College has been busy celebrating student success.
Students on the Career Academy and Foundation Learning programmes were recognised at two dedicated ceremonies on Wednesday 05 July, that celebrated achievement, contribution and development.
Newbury College Career Academy offers career-focused qualifications and training to school leavers aged 16-19, through full-time study programmes and T Levels. Students benefit from a mix of vocational and academic training alongside work-related activities such as industry placements.
Each subject area was asked to nominate students based on their contribution to the College or their programme, or for displaying outstanding commitment to their personal or professional development. Principal, Iain Wolloff, and Vice Principal, Lee Hunt, presented the awards.
Award for Development
Alfie Holloway
Bryn Millward
Charley Frewin
Chloe Simpson
Connor Edwards
Daisy West
D'Arcy Wellman
Emily Lewis
Fiona Smeaton
Florence Wallace
Georgia Entwistle
Harry Davis
Jack Simmons
James Paddick
Jamie Langford
Liam Osborne
Maddie Barnes
Max Taucher
Summer Marshall
William Harvey
Award for Contribution
Aimee Stephens
Alfred Greener
Archie Neal
Connor Edwards
Dylan Allen
Finn Dallimore
Harvey Butler
Haydan Wells
Jack Elliott
Keeley George
Liberty Tregunna-Bainbridge
Lily Canning
Michael Hughes
Otylia Popkowska
Rebekah Standen
Sam Dumbleton
Vinney Hosey
Zak Packard
A ceremony for students on the Foundation Learning programme took place earlier in the day, hosted by the Vice Principal and Leanne Butters, Head of Department for Foundation Learning. Foundation Learning programmes enable young people with profound and complex disabilities or learning difficulties to participate in an education that has meaningful outcomes for their individual needs, abilities, and aspirations.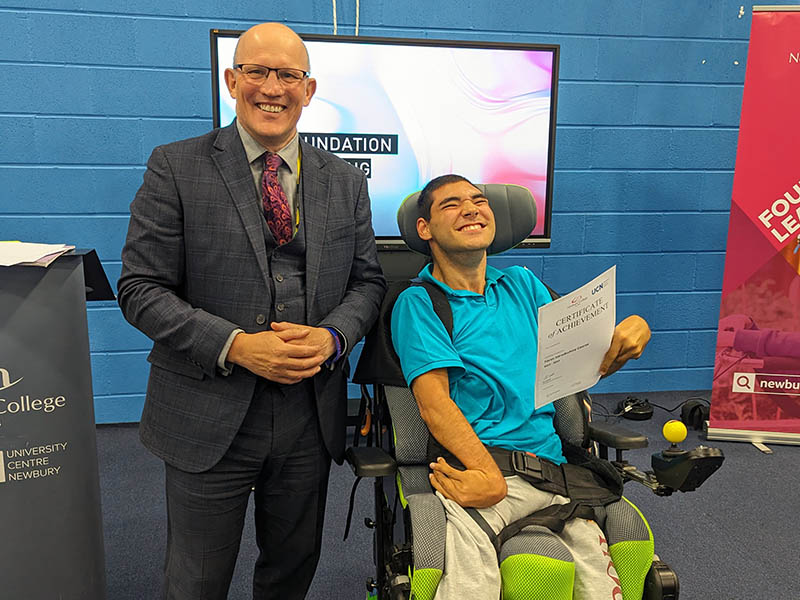 Vice Principal, Lee Hunt, said: "It is an honour to stand in front of parents, carers and other invited guests to celebrate the achievements of our young people. Many joined us straight from school, and they are now going out into the world, equipped with the skills and confidence to start the next stage of their lives, which for many will hopefully be a meaningful career. We hope they remember that this is not the end of their journey with us, and we look forward to welcoming them back one day, whether to participate in further learning or to inspire future generations of students."
Find out more about post-16 education at Newbury College, including Career Academy programmes, T Levels, Apprenticeships and Foundation Learning