Students studying for their BEng (Hons) Engineering Design Degree at University Centre Newbury (UCN), in partnership with Buckinghamshire New University, have attained outstanding results, with 100% achievement and 70% of those students obtaining first-class honours.
The degree level qualification is delivered by University Centre Newbury, having previously been offered at the sister organisation Newbury College. This is the fourth year of 100% achievement for the degree. The outstanding results are an excellent reflection of the hard work and dedication of the students and staff and provides a strong foundation for the degree standard provision available within the UCN.
Dr.Tim Coole, Course Leader, commented "This year the students have achieved outstanding results and shows the quality and the range of projects completed by them throughout the year. It also shows the excellent dedication they have to their studies," he continued. "This success is very encouraging for the development of the University Centre."
Dr. Coole, who leads the Engineering Design Degree at UCN (pictured with The Gerald Frewer Memorial Trophy awarded to him in 2020 by The Council of the Institution of Engineering Designers (IED)) contributes significantly to this outstanding achievement through his in-depth understanding of the industry and inspiring support of the students.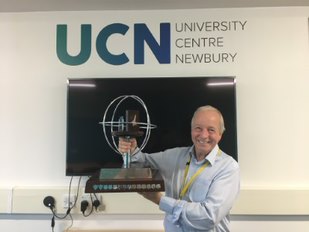 Jo Houghton, Director of Business and Partnerships, added, "We are delighted with the standard of work reflected in these excellent results for the degree students. As UCN progresses, we are confident that this standard will continue to provide the community with highly skilled, highly qualified professionals".
University Centre Newbury provides degrees and higher-level qualifications in the key sectors of Leadership & Management, Digital Technology, Engineering, Health & Social Care and Educational Studies. These programmes are delivered by highly-qualified, industry specialists that provide an exceptional learning experience.
To find out more about University Centre Newbury (UCN) and the programmes on offer, or to apply online visit www.ucn.ac.uk.