Foundation Degree in Children's Development and Learning Level 5 Foundation Degree
The Foundation Degree in Children's Development and Learning is a work-based programme which will provide students with the knowledge, skills and understanding to progress in their chosen career, without having to give up employment in order to study. It is validated as a Level 5 award and requires you to attend for half a day each week during term time, for two years. This course is delivered through a blended learning approach, meaning teaching and learning will be occur both on site in the classroom and remotely via a virtual learning platform.
There is plenty of support available to help you get the most out of your course. You will be allocated a personal tutor who will have regular one-to-one meetings with you. You'll also nominate someone from within your own workplace, such as a manager or colleague, to become your mentor. Additionally, you'll benefit from small learning groups and access to facilities at both Newbury and the University of Reading. Teaching is through lectures, seminars and workshops and makes full use of the University of Reading virtual learning platform (Blackboard) for extending discussions and sharing resources. Enrichment activities include visits to other settings, trips and outside speakers
---
Meet our students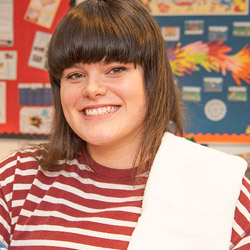 Elizabeth Lefever
"I've always wanted to work in the childcare industry and chose this course as the best option to further my career. I like the fact that I have work placements in nurseries and schools to get more experience and become more confident. The support staff and teachers are happy to help and full of encouragement."
Meet our students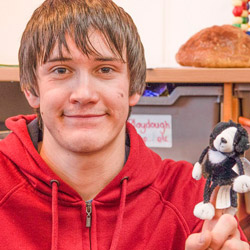 Luca Chareun
"I enjoyed the practical work experience within my course."
* Terms and conditions apply. The fees stated on this website are for guidance purposes only and should be checked before enrolment. Unless otherwise stated, fees shown are for tuition only, over one term (Community Learning courses) or one academic year. Where a course is longer than one academic year, the fees stated are for the first year, and the cost of the second or subsequent years will be discussed at interview. For details of fee remission for students over 19 click here. If you think you may be entitled to a concession or fee remission, or you would like more information on the additional costs associated with your chosen course, please contact us on 01635 845000 or email This email address is being protected from spambots. You need JavaScript enabled to view it..
Fee information
14 - 18 year olds
In most cases students aged 14-18 years old on a substantial study programme will NOT be required to pay fees and most course-specific equipment and materials will be funded by the College. This excludes stationary, non-curriculum trips and a £15 enrichment fee.
19 years and over
Students aged 19 years and over may be required to pay fees. For details of fee remission and loans for students over the age of 19 click here. Please note that some courses may have additional registration, examination and/or materials fees. Where we have been unable to provide these additional costs in this information, they will be discussed with you prior to enrolment. If you think you may be entitled to financial support or fee remission, or you would like more information on the additional costs associated with your chosen course, please contact us.