Machine Sewing for Beginners
Do you have a sewing machine but have no idea where to begin with it? Maybe you have a sewing machine and have dabbled in using it, but not sure how to produce a product? This course is aimed at people from those who have a sewing machine but have never taken it out of the box to those who have a sewing machine but little experience in sewing. The aim of the course is to give you confidence to get your sewing machine out and complete simple projects. Every session will be taken at a pace that allows for time to practise each skill and to ask questions, you will be supported at every stage. This course will provide the support you need to learn how to use your sewing machine, starting with the very basics of what all the dials and levers are and how to thread the machine. You will then go on to learn how to sew a simple, plain seam, learning how to adjust the speed of the needle and how to sew a straight line and around corners. You will then learn how to neaten the seams to stop them from fraying (where the fabric starts to unravel inside) and then how to sew a simple hem. Finally, you will learn how to insert a zip with a very simple zip insertion. Each session will include making an item practising the skill you have just learned - such as a reusable cloth, a hemmed napkin, a tote bag and a zipped purse/pencil case.
---
Meet our students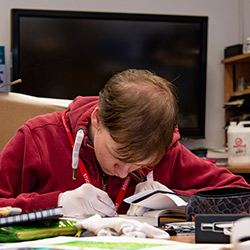 Ethan Thorne
"I chose Newbury College because it has a healthy environment in which I can enjoy creative freedom."
Meet our students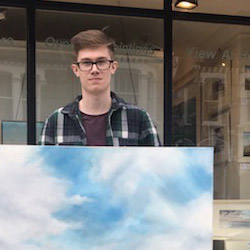 James Lockhart
"My time at college has been really positive. I've been able to focus solely on one subject that I really enjoy and I'm progressing onto university with an unconditional offer at the university of my choice."
James Lockhart
Art and Design
Meet our students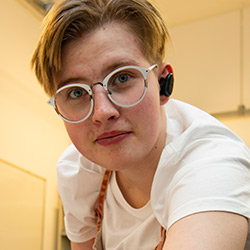 Thea Clarke
"I would recommend Newbury College as I have had so much support. I have enjoyed developing my skills in spray painting and printmaking techniques."
Meet our students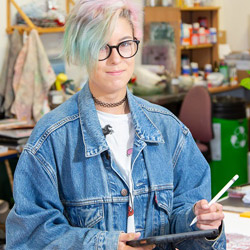 Willow Hammond-Ellaway
"I chose to study at Newbury College because it was conveniently close. I also loved the course choices, such a huge range, it was very difficult for me to decide what would be best. I had a lot of support to help me choose what course would be best for my future. I have enjoyed the confidence that I have gained from my course and I am very thankful for everything the college has done for me."
Programmes currently in progress

Please be aware that this course has already started. Please call 01635 845000 to check if spaces are available

| Code | Day | Start | End | Times | Fees* |
| --- | --- | --- | --- | --- | --- |
| 99084/DF/01 222301 | Tuesday | 17/01/2023 | 14/03/2023 | 19:00 - 21:00 | £150 |
* Terms and conditions apply. The fees stated on this website are for guidance purposes only and should be checked before enrolment. Unless otherwise stated, fees shown are for tuition only, over one term (Community Learning courses) or one academic year. Where a course is longer than one academic year, the fees stated are for the first year, and the cost of the second or subsequent years will be discussed at interview. For details of fee remission for students over 19 click here. If you think you may be entitled to a concession or fee remission, or you would like more information on the additional costs associated with your chosen course, please contact us on 01635 845000 or email This email address is being protected from spambots. You need JavaScript enabled to view it..
Fee information
14 - 18 year olds
In most cases students aged 14-18 years old on a substantial study programme will NOT be required to pay fees and most course-specific equipment and materials will be funded by the College. This excludes stationary, non-curriculum trips and a £15 enrichment fee.
19 years and over
Students aged 19 years and over may be required to pay fees. For details of fee remission and loans for students over the age of 19 click here. Please note that some courses may have additional registration, examination and/or materials fees. Where we have been unable to provide these additional costs in this information, they will be discussed with you prior to enrolment. If you think you may be entitled to financial support or fee remission, or you would like more information on the additional costs associated with your chosen course, please contact us.